Orange County Model Sailing Club
Mason Park - Irvine, California
DF95 Regional Championship
You're Invited To Participate In The DragonFlite95 Region 6 Championship At OCMSC!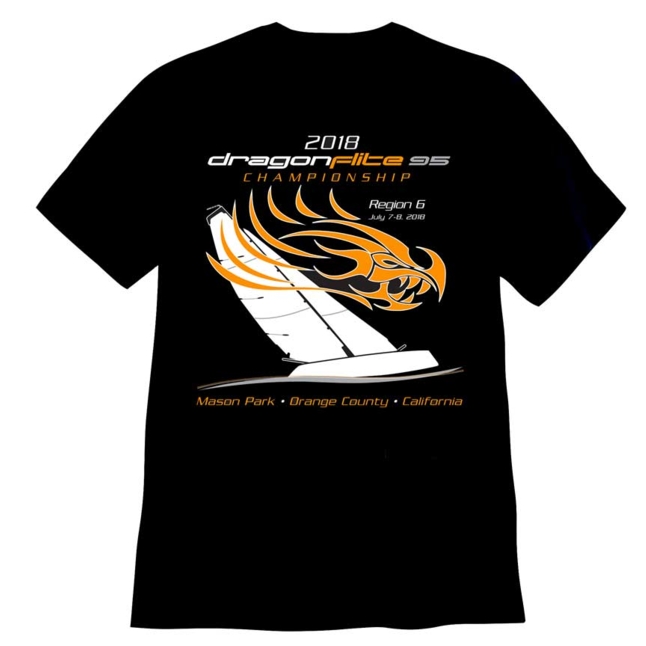 The Orange County Model Sailing Club will host the DragonFlite 2018 Region 6 Championship Regatta on July 7 and 8 at Mason Regional Park in Irvine California. Practice at the lake will be available on Friday, July 6.
The $55 regatta fee per boat includes box lunches on Saturday and Sunday are from Jersey Mikes Subs (choices are available on the registration form), and beverages. Awards will be given to the first 5 positions in the final results,
The fee also includes the commemorative T-Shirt shown here designed by Don Frakes our Commodore, and sponsored by Chuck LeMahieu of Dragon Sailing and RadioSailing.net
Please note that the regatta fee payable to OCMSC does not include the $5 per day charge to enter the park.
The Regatta Fee is payable online either with PayPal or a major credit card prior to July 1, 2018. No refunds will be given after that date.
Contacts:
Bob "Shoe" Schumacher, Regatta Coordinator: bobshoe1@gmail.com
Don Frakes, Commodore: fdfrakes@yahoo.com