Orange County Model Sailing Club
Mason Park - Irvine, California
V32 Points Races
The points races for 2013 have been completed. The finishes were quite close. Only two points separated first and second. Congratulations to the winners.
| | | |
| --- | --- | --- |
| Place | Skipper | Points |
| | | |
| 1st | Pete Kruse | 39 |
| 2nd | Don Frakes | 41 |
| 3rd | Bob Schumacher | 50 |
Points Race 1, February 24
We had 12 skippers and a thirteenth entry, Santa Ana as in winds. And Santa Ana dominated. Many times one wasn't even able to tack. To add to the excitement there were two de-mastings, several submarining boats and one sinking. Boats were heeled over so far at times that hatches were partially under water. Ron Lange's boat took on so much water that it sank. A dramatic resue by Pete and David allowed Ron to go home with a soggy but physically intact craft, electronics perhaps excepted.
The full 12 races were not completed but of those that competed in all that were run Ron came in first, Shoe; second and Tony; third. Results for the entire field are shown below: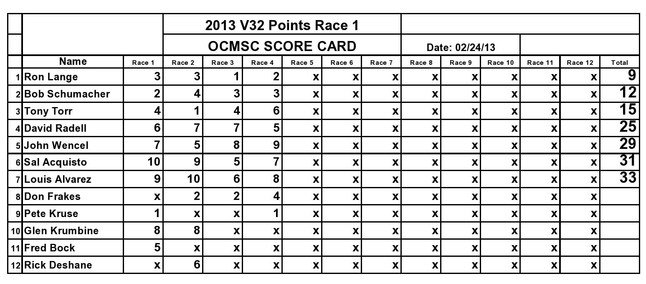 Click on the thumbnail above to enlarge.
Points Race 2, April 28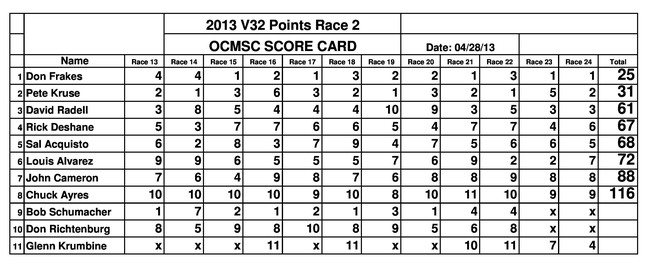 Points Race 3, June 30
Thanks to David Adame and Louis Alvarez for conducting the event.

Points Race 4, August 25

Points Race 5, October 27