Orange County Model Sailing Club
Mason Park - Irvine, California
Welcome to the OCMSC web site.
"The art of racing is not in winning, but in winning so that the rest of the fleet are pleased you have won, and the only way they can be pleased is for you to have shown better helmsmanship than they and also shown perfect sportsmanship."
Uffa Fox**

** Uffa Fox (1898-1972), an English boat designer and sailing enthusiast responsible for many of the developments which have contributed to the modern popularity of dinghy sailing. Thanks to Shoe for bringing this to the club's attention.
---
---
2018 Points Race Winners
Class
A Fleet
B Fleet
1st
2nd
3rd
1st
2nd
3rd
US1M
Bob Smith
Don Frakes
Bob Schumacher
Fred Bock
Paul Hart
---
The 2018 schedule can be accessed by clicking on the thumbnail below: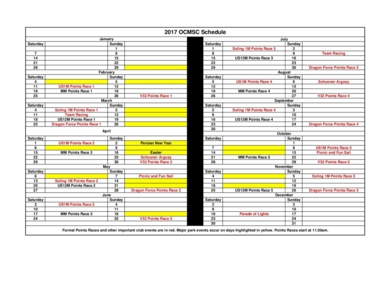 ---
The 2018 membership form has been posted at the Forms and Links tabs. Please download, fill out, sign and get it along with the annual dues to me in accordance with the instructions. Note that dues have been increased from $15 to $20. A significant source of income, revenue generated by auction sales conducted at club picnics, has been much less recently than in previous years.
---
CHANGES TO THE RACING RULES FOR 2017 and New Rules Videos Lessons
---
A primer that might be helpful for all skippers.
---
About OCMSC:
To those of you who wish to learn more about radio controlled sailing, racing, and about our organization, Orange County Model Sailing Club (OCMSC), you have come to the right place. Our regular sailing location is the pond at William R. Mason Regional Park in Irvine, California to which you can get driving instructions by clicking on "View Larger Map" below.
We sail almost every Wednesday, Saturday and Sunday from about 10:30 am to 2:00 pm except when we are visiting other clubs on regattas. You are more than welcome to join us and we will be happy to let you use one of our yachts to experience the fun and excitement of radio controlled sailing.

To start sailing is relatively inexpensive if you build your own yacht from scratch, buy a kit and build it yourself or buy a used yacht. Our club sails several classes. The US One Meter, Soling One Meter, V32, Dragon Force 65, US12 and Micro Magic are the boats we have on our schedule for practice racing and regattas. The Schooners or any boat you would like to bring to the pond are what we sail on the 1st and 3rd Sunday of each month, no racing just a chance to socialize and fun sail.

Over thirty classes are recognized by the American Model Yachting Association (AMYA). This 40 year old national organization was founded to further the development of building, sailing, and racing radio controlled yachts. The OCMSC is affiliated with this national organization, and during the thirty plus year history of the OCMSC we have been fortunate to host several national championship regattas and have produced past and present national champions.

On a regular basis you can find our members sailing for pleasure and practicing at Mason Park. Besides sailing for fun and practice, we host scheduled regattas/points races every month of the year, where other club members are invited to race for glory. Radio controlled sailing is a wonderful way to spend time relaxing from the everyday pressures of life. OCMSC is made up of people from all walks of life. We are a family oriented group and welcome family involvement.

Please come down to the Mason Park and get to know our members, sail our boats and become familiar with the sport of radio controlled sailing.

We hope to see you soon.
---
---
Number of homepage hits since the site was created July 25, 2010.
124,456
---
---